12 Panel Urine Drug Test Cup with ETG Alcohol by Healgen Scientific 25/Case
SKU:

UPC:

MPN:
Bulk discount rates
Below are the available bulk discount rates for each individual item when you purchase a certain amount
| | |
| --- | --- |
| Quantity | Per Item |
| 1 - 3 | $135.50 |
| 4 - 7 | $130.25 |
| 8 - 15 | $125.50 |
| 16+ | $118.75 |
Frequently bought together:
Description
Panel Drug Test Cup with EtG (Alcohol) from Healgen Scientific 25/Case
Free FedEx Ground Shipping
The Healgen Scientific Multi-Panel Drug Test Cup from American Drug Test is a No Step, fully integrated self contained multi-drug screening cup. No tipping or turning required. Read results in 5 minutes. The cup includes EtG 500 ng/mL for the detection of Alcohol in urine. This cup is a fast visual, competitive panel immunoassay that can be used for the simultaneous, qualitative detection of multiple drug metabolites at specific cutoff levels in human urine.
What Is EtG (Alcohol)?
Ethyl Glucuronide (EtG) is a direct biological marker that is formed in the body after the consumption of ethanol from drinking alcoholic beverages. When someone consumes even relatively small amounts of alcohol, EtG is formed and can be detected. EtG may be detectable as soon as 2 hours after use and up to 80 hours past consumption. It is important to note that there are many variables affecting the window of detection.
Unique biological markers of alcohol use (only alcohol consumed can create EtG)
Detects recent use
Longer detection window than the previously recognized urine alcohol test called, ethanol or ETOH
Longer detection window than breath alcohol
Highly specific and sensitive to alcohol consumption
Why Test For EtG?
EtG testing is not used to check for current impairment, rather screens for ethanol use. EtG and EtS are the only biomarkers recognized as appropriate for abstinence monitoring, based primarily on the time to return to normal levels following abstinence from alcohol.
EtG testing can reduce alcohol abuse
EtG testing allows for detection of drinking when individuals look to keep their use a secret
When persons with drinking problems know they will be tested, they usually will stop drinking to avoid penalty
Reduced rates of substance abuse has been reported from organized treatment programs utilizing routine EtG testing programs
Drug courts that use EtG testing also report greatly reduced alcohol abuse rates
EtG testing confirms alcohol abstinence. When alcohol abusers stop drinking, it is often difficult for others to trust that they are not
Can alcohol be detected in urine after 80 hours?
The "EtG" Urine Alcohol Test detects ethyl glucuronide in the urine, which confirms alcohol ingestion as long as 3-4 days prior, or about 80 to 90 hours after the liver metabolizes alcohol.The EtG test has become known as the "80 hour test" for detecting any amount of recently consumed alcohol.
Features & Benefits
Sold by the Case of 25 tests
Includes "O-Ring seal" in cap for improved leak resistance
"Click Seal" cap confirms the cup is sealed and the specimen is secured
No step cup
Up to 99% Accurate
Dual scale Temperature Strip verifies if urine is "fresh" and not diluted
Adheres to the SAMHSA Cutoff Levels
Immediate Results
Shelf-life up to 24 months
New easy to open top for the confirmation lab
Forensic Use Only
Download & Print Reference Materials
Accurate™ Brand Drug Test Cup HCDOAV-1125ET Package Insert
Accurate™ Brand Drug Test Cup Instruction Sheet
12 Panel Configurations

(Choose Above)

Item Number
Drugs Tested
Classification
HCDOAV-1125ET
AMP, BAR, BUP, BZO, COC, MET, MDMA, MTD, OPI-300, OXY, THC, ETG-500
FOR FORENSIC USE
HCDOAV-1125E3
AMP, BAR, BUP, BZO, COC, MET, MDMA, MTD, OPI-300, OXY, THC, ETG-300
FOR FORENSIC USE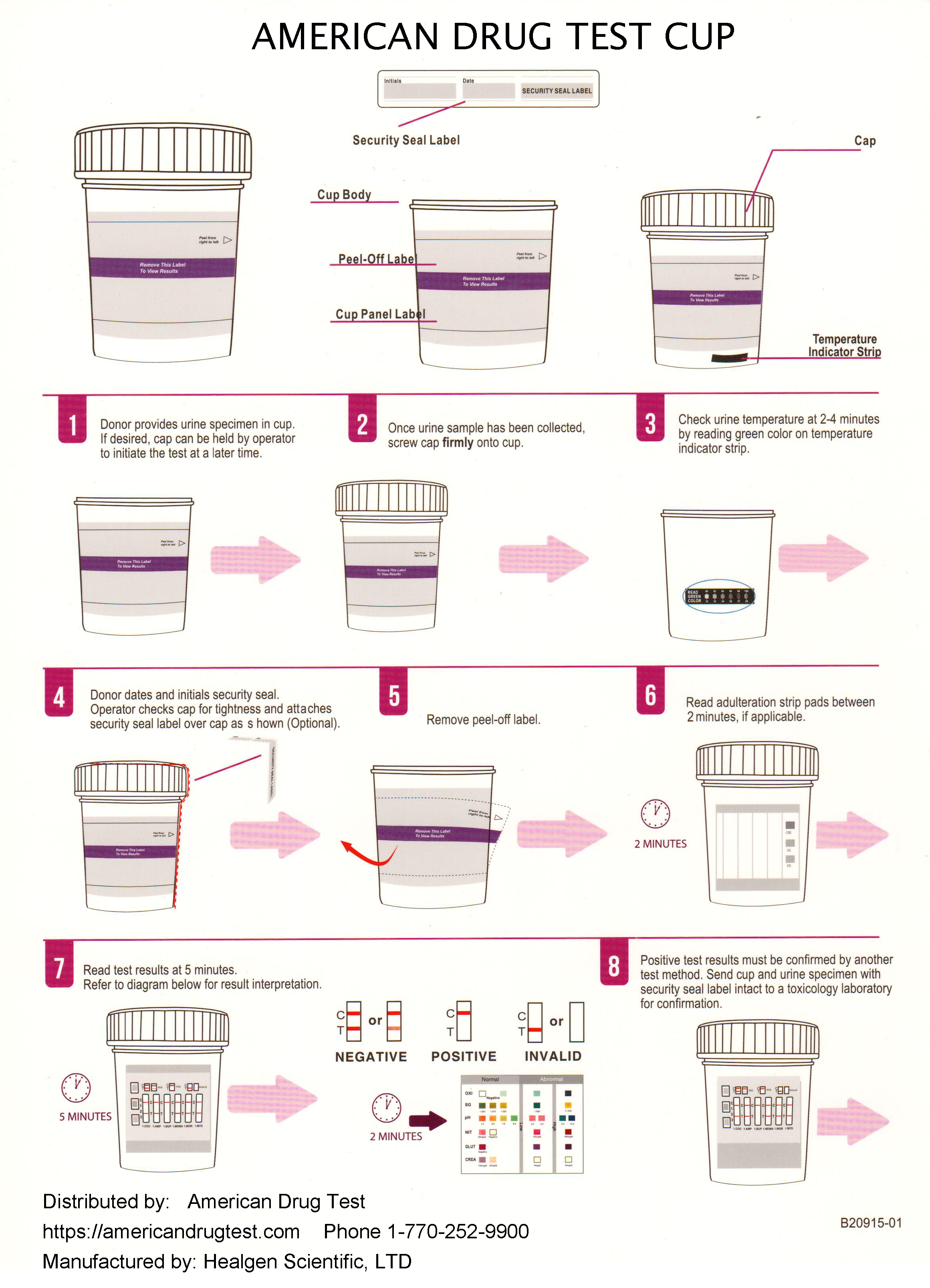 View All
Close
1 Review
12 PANEL URINE DRUG TEST CUP WITH ETG ALCOHOL 25/CASE

Excellent product and service! Thank you!
View All
Close