3 Panel iCup Drug Test with Adulterants 25/Box
SKU:

UPC:

MPN:
Bulk discount rates
Below are the available bulk discount rates for each individual item when you purchase a certain amount
| | |
| --- | --- |
| Quantity | Per Item |
| 1 - 3 | $117.50 |
| 4 - 9 | $111.50 |
| 10+ | $105.75 |
Frequently bought together:
Description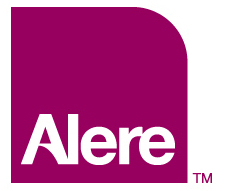 The iCup Drug Screen Test Cup is the industry leader for accuracy and simplicity. The iCup self-contained one step drug test results are visible within minutes. A positive result is indicated with one line and a negative result with two. An additional bonus with the iCup is that you may photocopy the results with the flat front allowing you to maintain a visual record of the test. Built-in Adulteration versions are available.
The iCup offers a completely closed system for total urine specimen integrity and easy collection. The clear construction gives optimum observation of urine specimen. The iCup drug screen kit is a single unit with no dipping or pouring. Test results develop quickly in the sealed unit. The system remains closed until disposal of the device. The iCup drug screen is zero exposure, leak-proof and tamper-proof design. The iCup cup can be ordered with combinations from 3 to 13 panels.
What's Included?
iCup comes with kit, cup, security seal, and drug screen result form. The iCup drug screen result form shows a diagram of the iCup and gives an example of positive results, negative results & invalid results. The form provides the names of each drug and their abbreviations making your job easier! Not to mention a product insert, a step by step instruction display for your staff. The iCup drug screen includes a temperature strip located on the back of the cup. This helps to insure specimen integrity. The I-Cup drug screen also includes a quality control device built into the test itself, and a red line in the control region (C) is considered an internal procedural control. It confirms sufficient specimen volume, adequate membrane wicking and correct procedural technique.
Features & Benefits
Sold by the Box of 25 Test Kits
Photocopy Template and Two-part result form available upon request
Security Seal
FDA 510(k) Cleared
Temperature Strip
Room temperature storage
SAMHSA Lab GC/MS Confirmation optional - Call for information
Built-in validity test
Immediate Results
Detects from 3 to 13 drugs
Simple procedure
Fast results
Adheres to SAMSHA Cutoff Levels
Cut-offs levels of drug testing set according SAMHSA
Shelf-life 24 months from date of manufacture
99% Accurate test results in 5 minutes
i-Cup Reference Materials
(click to view & print)
iCup 3 Panel Configurations
| | | |
| --- | --- | --- |
| Item Number | Drugs Tested (Select Item Number Above) | Adulterants Tested |
| I-DOA-1237 | COC, THC, mAMP | by product |
| I-DOA-3137 | COC, THC, OPI | by product |
Drug Panel Detection Chart
Drug Name / Abbreviation
Calibrator
Cutoff
Minimum/Maximum Detection Time in Urine*
Amphetamine (AMP)
d-Amphetamine
1000 ng/ml
2 hours to

4 days

Barbiturates (BAR)
Secobarbital
300 ng/ml
2 hours to 3 weeks
Benzodiazepines (BZO)
Oxazepam
300 ng/ml
2 hours to 4 days
Buprenorphine (BUP)
Buprenorphine
10 ng/ml
2 hours to 3 days
Cocaine (COC)
Benzoylecgonine
300 ng/ml
1 hour to 4 days
Ecstasy (MDMA)
d,l Methylenedioxymethamphetamine
500 ng/ml
2 hours to 4 days
Marijuana (THC)
11-nor-Δ9-THC-9 COOH
50 ng/ml
2 hours to 40 days
Methadone (MTD)
Methadone
300 ng/ml
3 hours to 3 days
Methamphetamine (mAMP)
d-Methamphetamine
1000 ng/ml
2 hours to 4 days
Morphine (MOP / OPI-300)
Morphine
300 ng/ml
2 hours to 3 days
Opiates (OPI)
Morphine
2000 ng/ml
2 hours to 3 days
Oxycodone (OXY)
Oxycodone
100 ng/ml
1 hour to 2 days
Phencyclidine (PCP)
Phencyclidine
25 ng/ml
4 hours to 14 days
Tricyclic Antidepressants (TCA)
Nortriptyline
1000 ng/ml
8 hours to 7 days
Propoxyphene (PPX)
Propoxyphene
300 ng/ml
2 hours to 3 days
* Detection times are not guaranteed. This assay provides only a preliminary analytical test result. A more specific alternate chemical method must be used in order to obtain a confirmed analytical result. Gas Chromatography/Mass Spectrometry (GC/MS) is the preferred confirmatory method. Clinical consideration and professional judgment should be applied to any drug of abuse test result, particularly when preliminary positive results are indicated.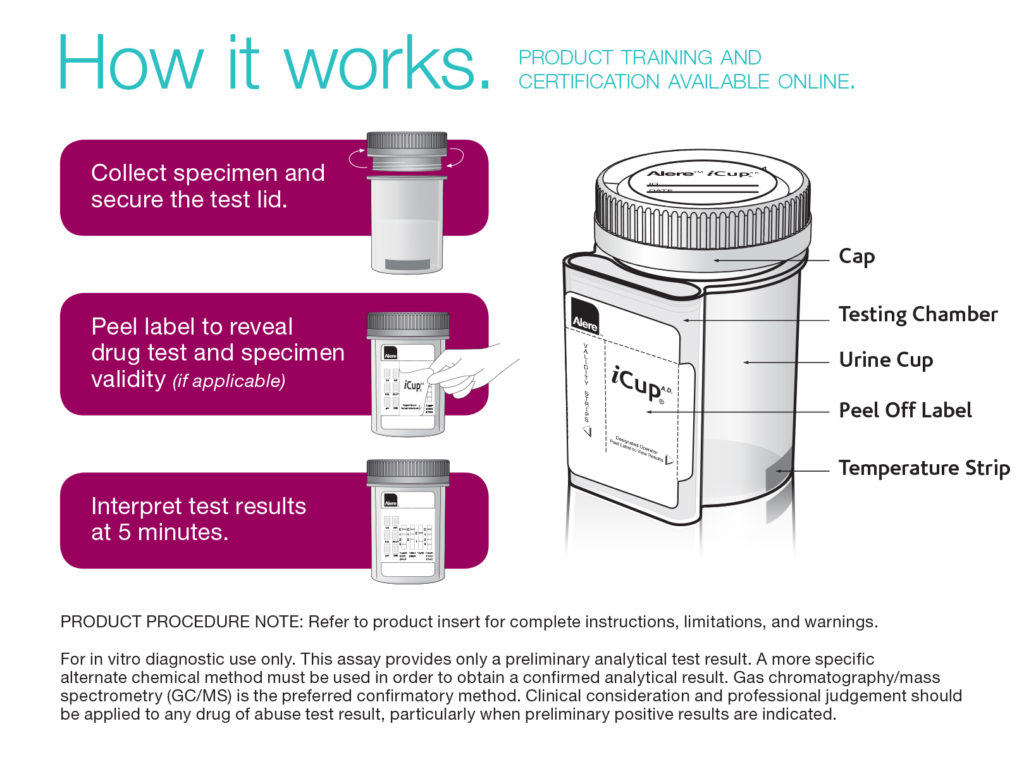 View All
Close